Riders Meetings are held on the 1st Thursday 7:00PM
Current Officers for 2023-2024
DIRECTOR - Jerry Barbour
ASSISTANT DIRECTOR - Brad Knaub
SECRETARY - Lisa Glackin Carroll
TREASURER - Andre' Miller
RIDE CAPTAIN - Robert Kranz
MEMBERSHIP CHAIRMAN - Joseph Glackin
HISTORIAN - Eric Louderback
CHAPLAIN - Charlie Kranz
SGT-AT-ARMS - Tim Stevens

If you need to contact any one of these officers, you can send email to: legion182md@lycos.com and we will see they get the information.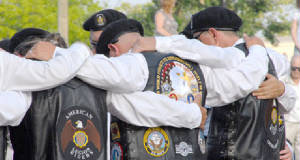 What We Do
The American Legion Riders are a diverse group of motorcycle enthusiasts sharing common goals. All are members or spouses of The American Legion, American Legion Auxiliary, and Sons of The American Legionand all are united by patriotism. They answer the call to ride in service to Americas military, her veterans, and for the children and youth of our country.
In Maryland, the American Legion Riders began with a chapter at Edwin Adams Post 293 in Waldorf, MD. As a result, the Post 293 chapter of the American Legion Riders effectively became the "State Chapter" for Maryland.
Today, there are 24 chapters of the American Legion Riders in Maryland, and still growing. You can find American Legion Rider chapters at many functions and venues, including: the annual Rolling Thunder Ride For Freedom in Washington, DC, local parades and charity fundraisers, Walter Reed Army Medical Center and Bethesda Naval Hospital. The American Legion Riders are also at the forefront of collecting donations for The American Legion's Legacy Scholarship Fund, which helps to provide educational resources for the surviving children of military personnel killed during America's War on Terror.
Questions or comments? Get in touch with us at:
Mailing Address:
American Legion
Slate Ridge Post 182
2217 Whiteford Road
Whiteford Maryland 21160
410-452-5819
Email Address: