Commander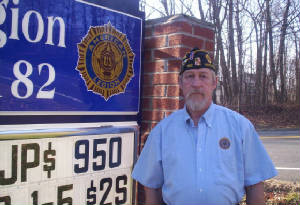 Mr. Robert "Mike" McFadden
"To you, my comrade, is entrusted a very important duty, that of teaching and protecting the cardinal principles of The American Legion throughout your entire Post. To you is entrusted supervision of the duties of all other officers of the Post. To you may come the needy and the distressed and it is your duty to see that no worthy comrade is turned away without full justice. It is your duty to see that Freedom is ever the watchword of those with whom you may come in contact. Loyalty to your Post, to its membership, to the state and to the National Organization, are obligations which you now assume. You are guided by the Constitution and by the decisions of the Post as a body, yet the responsibility for the success of the year's program is largely on your shoulders. You must initiate and carry through programs to completion. You must thoroughly familiarize yourself with the policies and traditions of your Post and of The American Legion. By your sincere acceptance and earnest performance of these duties, may the great trust which your comrades have reposed in you be justified."
I hope everyone had a Very Merry Christmas and wish everyone a Happy and Prosperous New Year in 2008.
I would like to talk a little about the new Maryland Clean Air Act that goes into effect 1Feb2008. Unfortunately, Veterans cannot come into their own private club and sit down, relax, enjoy a drink, and have a cigarette if they wish too. These Veterans sacrificed their lives for our great country and this is the thanks they get, however, I expect everyone to comply with this new law which WILL be enforced by management, employees, and members. We must pull together to make sure that everyone understands this new law; and as a great organization that we are, we have to comply. We don't like it, but we can do it. Thank you for your support in this matter.
We, here, at Slate Ridge Post 182 should be proud in what we do. Without working together as a Legion Family, we could not meet the deadlines for all of the programs that are placed before us. I commend and congratulate all of the members that keep our Post striving to become the best organization it can be. You know who you are without mentioning names and again I say "Thank you". With all of your help, input, and dedication, it makes my job easier to report that we ARE, in fact, meeting these tasks.
The men and women of our Armed Forces are continuously sacrificing their lives, that we can live in a land that is Free and out of Harms Way. We MUST continue to support our fellow veterans. There is much more work that we have to do to keep our Post the great organization that it is today.
We have to continue recruiting new members. If you know or speak to a veteran, let them know what The American Legion is all about and what we do. We sure would like to have them join Slate Ridge Post 182 and join our family.
Again, I say "Thank you" and continue to keep up the great work that you do.
For God and Country
Commander Mike McFadden